Clear is a concept for a private social network for those with anxiety and depression to reach out to their support network by helping them share what's going on and how they feel.
Roles
:
UX Design, UI Design, Interaction Design, User Research, Information Architecture, Art Direction
Developed as a final project at VFS's Digital Design program.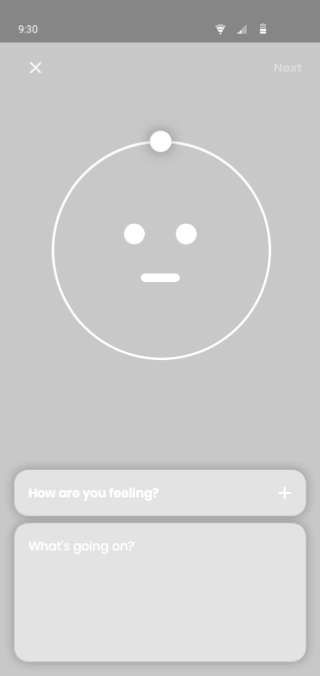 Growing up with anxiety I found it very hard to talk about how I was feeling to the people around

me, especially my family. At times I was too scared to reach out even when I needed help, which resulted in my parents feeling frustrated, angry, and confused because they didn't know how to help, and me not receiving the support I needed. Looking back now I wonder if there isn't a better way to help young people with anxiety reach out for support, which in turn would give parents the opportunity to help.
24%
Suicide is the second leading cause of death among 15-24 year old Canadians and accounts for 24 percent of all deaths in this age group.
9/10
People with mental health problems say that stigma and discrimination have a negative effect on their lives.
3.2 Million
The total number of 12-19 year olds in Canada at risk for developing depression.
Take away the barriers that prevent youth from talking about their mental health to their parents so they can receive support.
Discovery Through Research
To validate or invalidate my assumptions I conducted a survey targeting people with anxiety and/or depression as well as interviews to better empathize with and understand my target audience.
To get quantitative information on my target audience I created a survey and asked about their experience with anxiety and/or depression, how they communicate, as well as what has helped them. This survey was shared on my social networks and received 66 responses.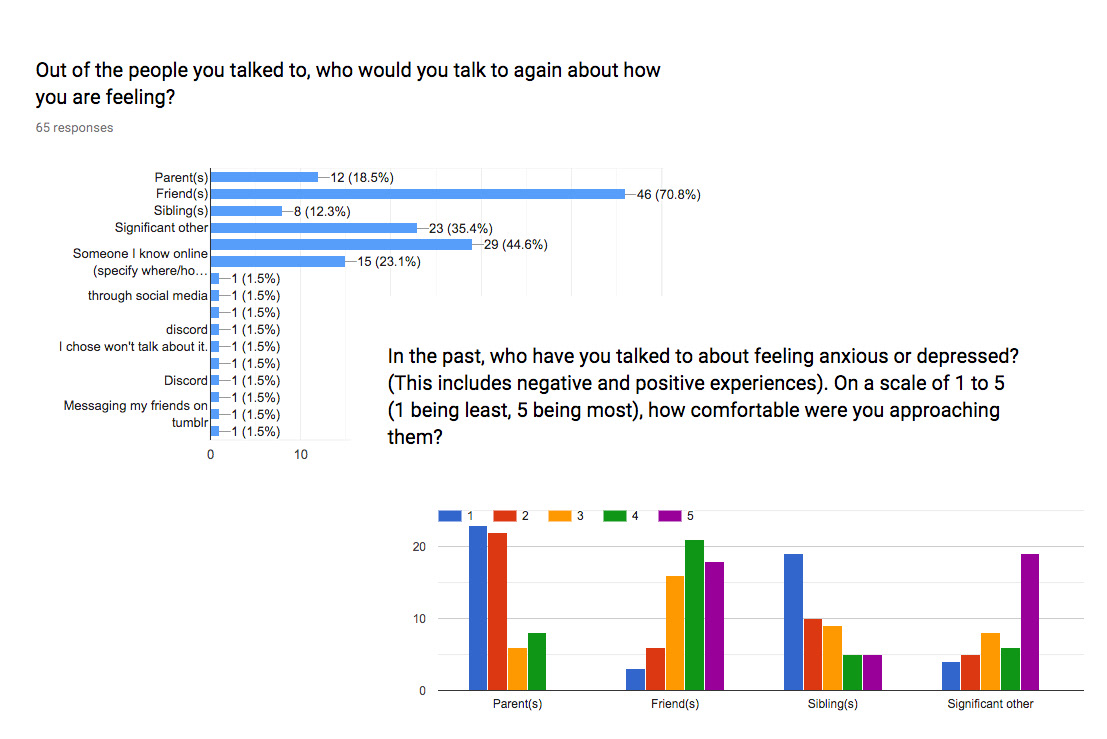 I conducted interviews with people who have experience dealing with mental illness (themselves or someone they know), as well as a mediator specializing in conflict resolution and a psychology student to get a different perspective. I asked interview participants questions from the survey and questions to help them recall specific experiences to get deeper insights. Twelve 30 to 60 minute interviews were conducted.
With all the information from the survey and interviews, I did affinity diagramming to see if I could find any patterns. I wrote all my findings on sticky notes and stuck them randomly on a wall, then gathered other classmates to help sort the information into groups.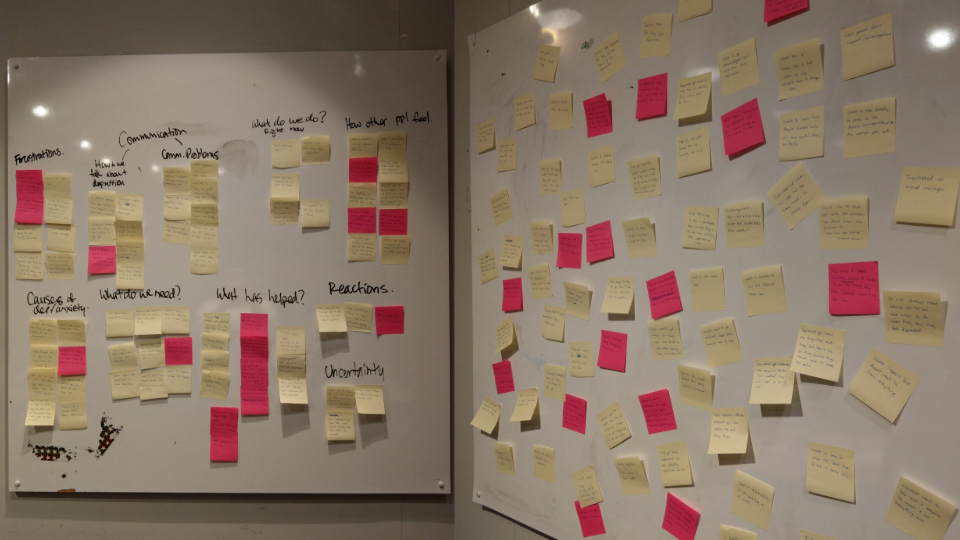 After organizing and distilling all my research, I came up with these key insights to guide further ideation.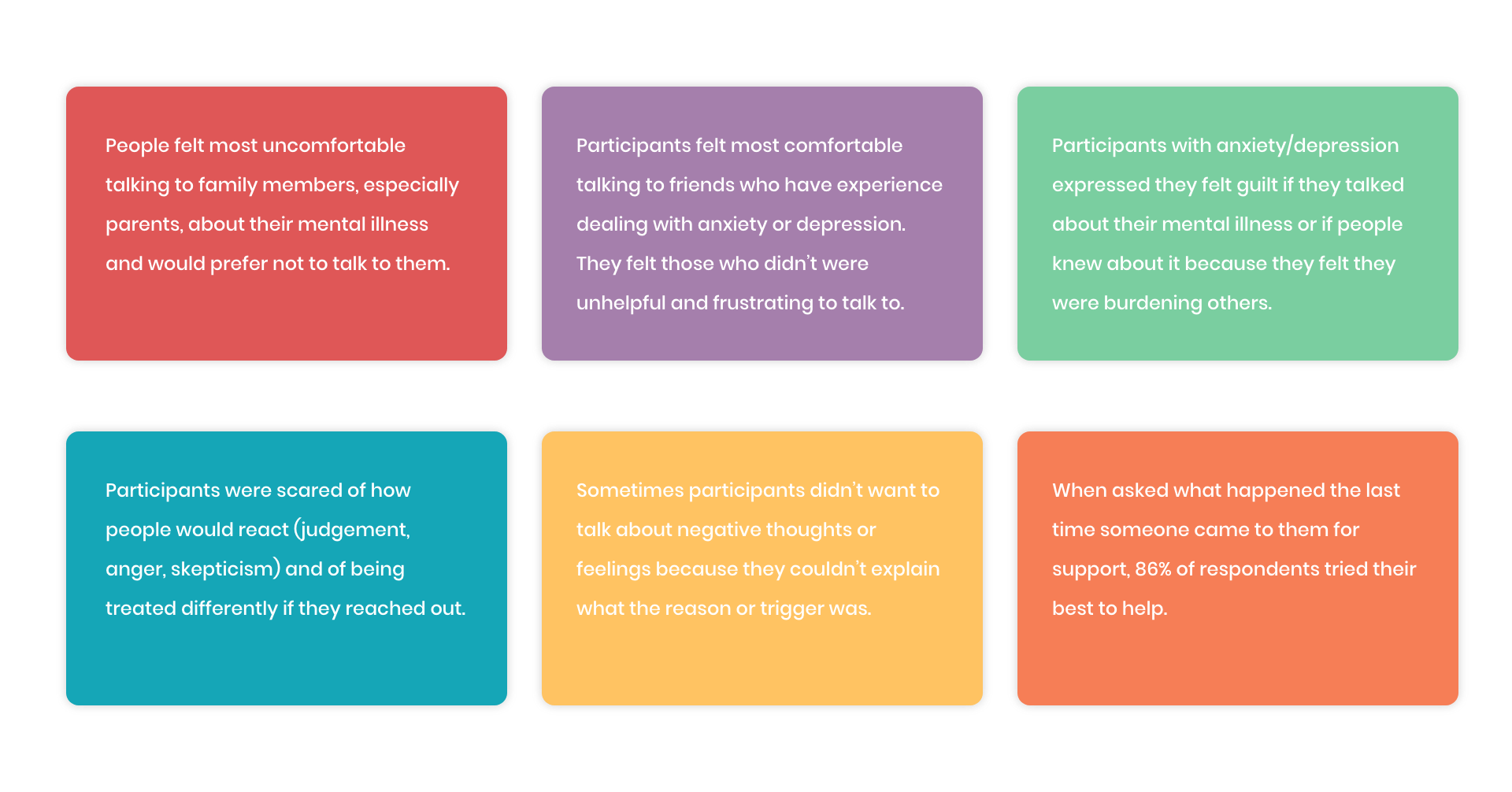 ​​​​​​

•

​

Ta

lking with others can relieve feelings of anxiety and depression.
•
Due to negative stigma users are afraid to reach out for help.
•
People want to help others when they are feeling anxious or depressed and experience negative feelings when they are unable to do so.
•

People with depression and/or anxiety would like to talk about their mental illness with their parents.
•

 People would be uncomfortable with periodic check-ins.
•

 People know what causes or triggers feelings of anxiety/depression.
• This is not a medically approved product and does not replace therapy, counselling, or prescribed medication.
• People with anxiety/depression have low amounts of energy and have trouble making decisions.
• Users need to feel safe in order to open up and communicate.
• Though over 50% of Canadians believe stigma associated with mental illness has been reduced compared to five years ago, it still remains a barrier.
Defining
With research in hand the next step was to refine all my data to help me determine pain points and define an MVP that will help solve users' problems.
To help me pinpoint how users behave, why they behave this way, and how they are feeling I created archetypes, a general representation of my target audience based on my research.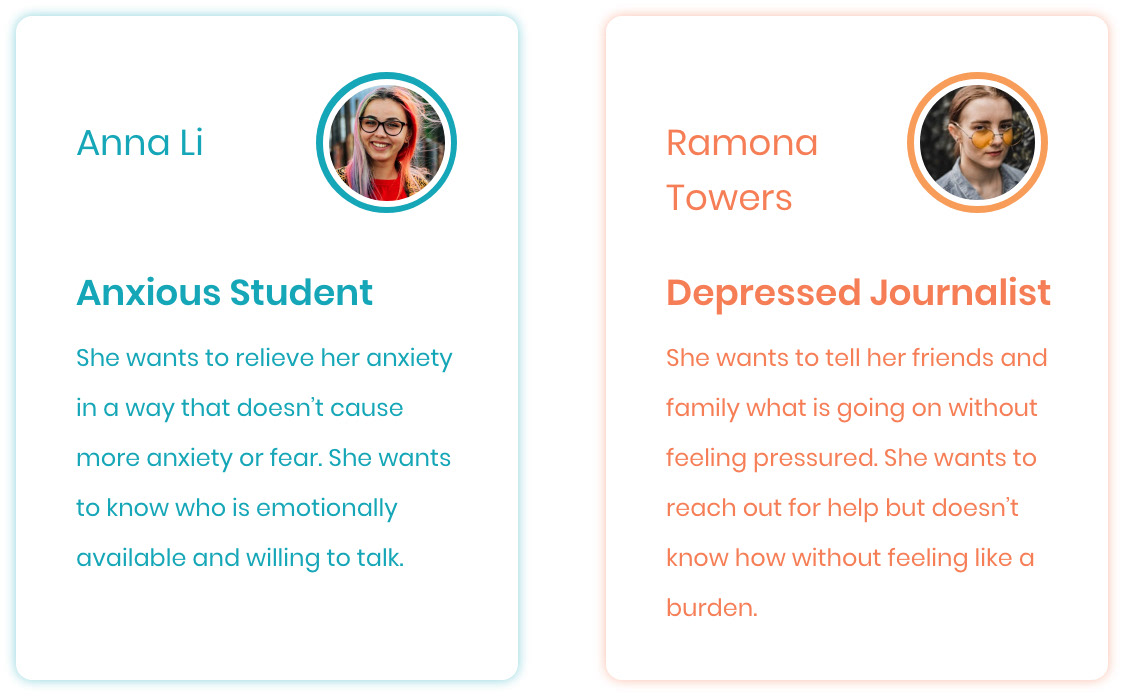 I went through different UX methodologies to determine what users are looking for to help me come up with features that could help solve their pain points.​​​​​​​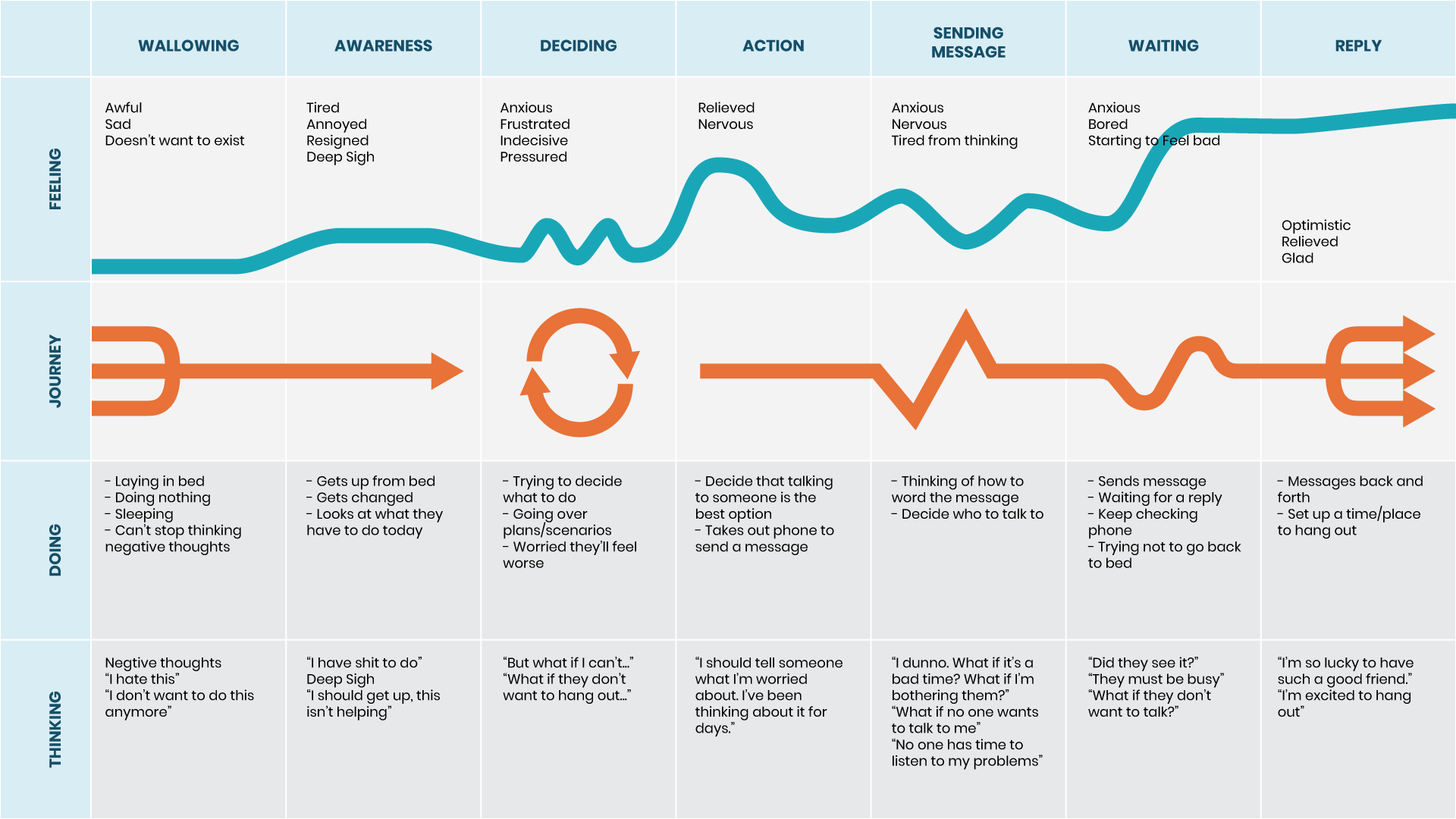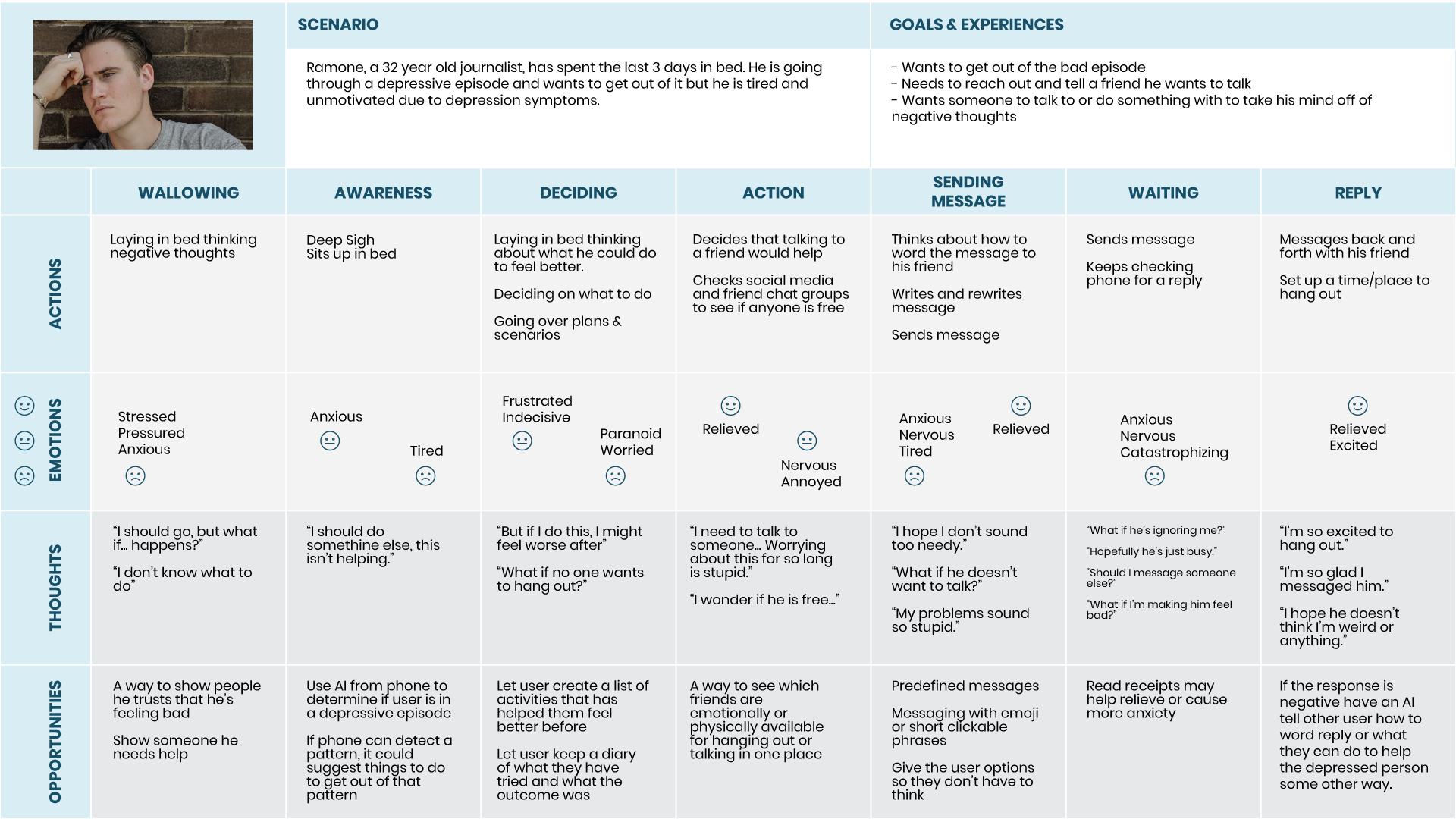 Pivoting - Redefining the Problem
After conducting and analyzing all my research I came to the conclusion that those in the target age group (15-24 years old) were least comfortable approaching and talking to their parents about their mental health, so I had to pivot the focus of the project.
I was surprised to learn most participants had an existing support network consisting of friends who they felt comfortable talking to because they had experience with mental illness, but there are still barriers. Though most (86%) of respondents were willing to offer support, participants still felt guilt, fear, and anxiety when reaching out.
So the problem shifted: how do we help youth overcome barriers to reach out and get support that readily exists?
The Solution
A private social network for those with anxiety and depression to reach out to their support network by helping them share what's going on and how they feel.
I started by creating user flows to map out each interaction the user would encounter in the MVP flow and then proceeded to bread boarding to determine what elements I would need to have on each screen.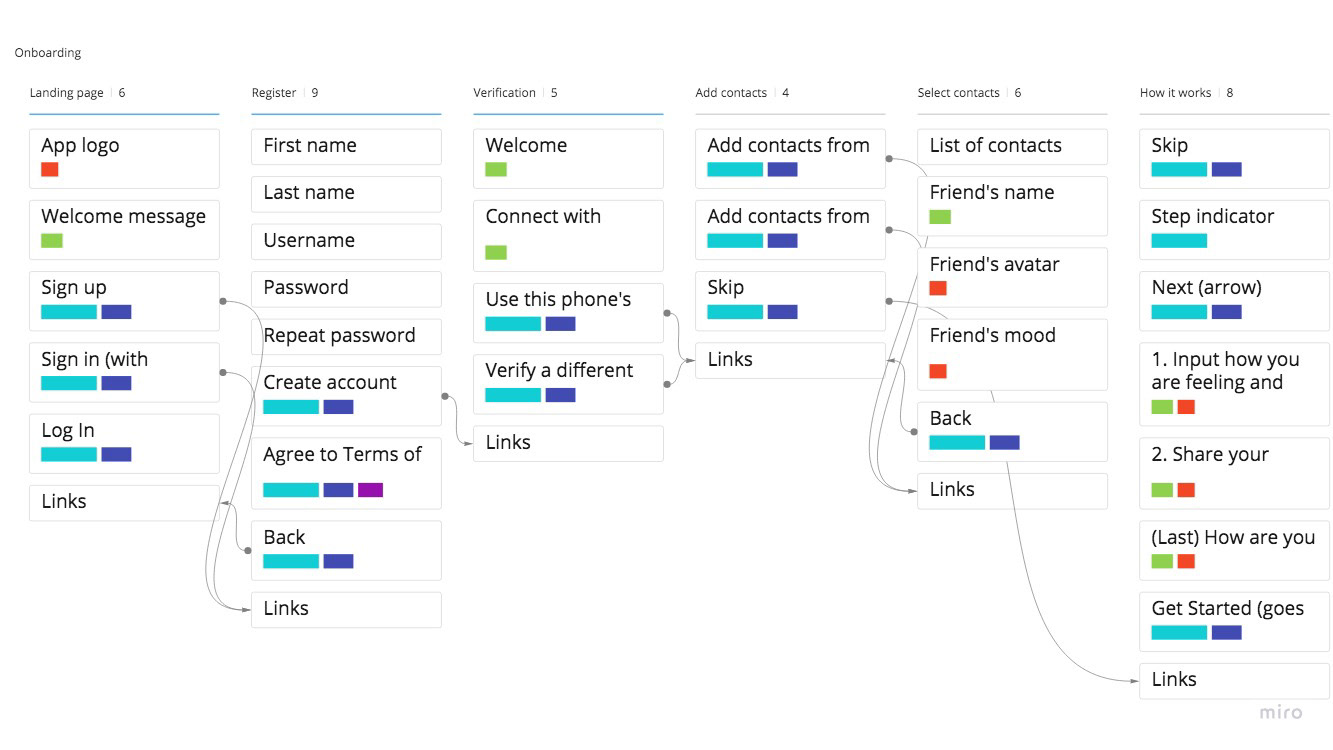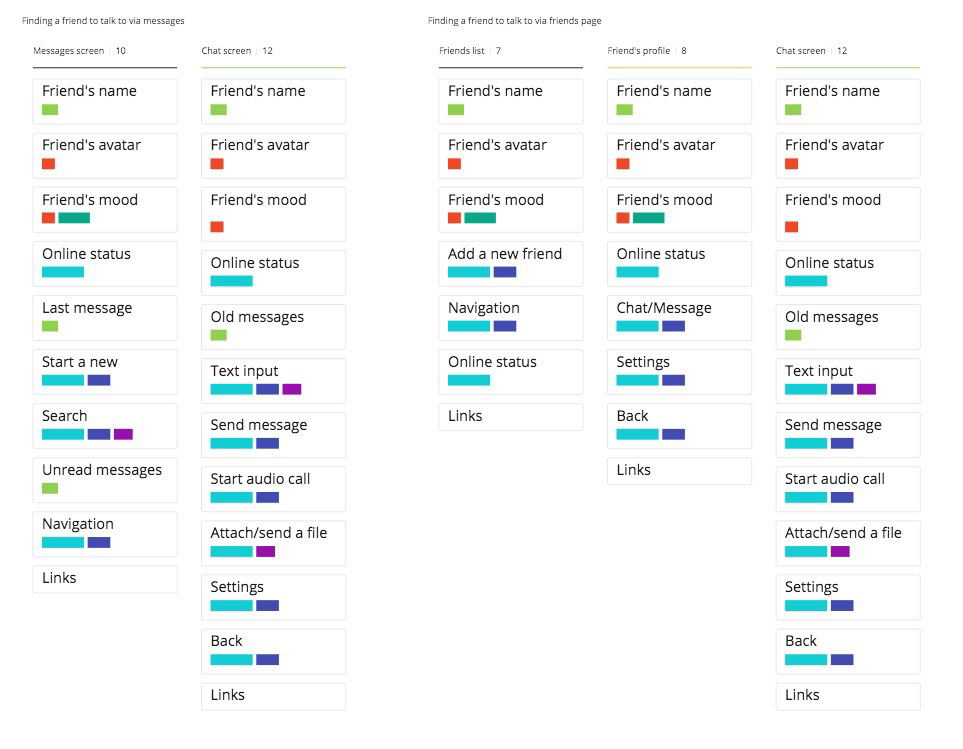 Overall I created 3 versions of my wirefra
mes and low-fidelity prototypes using Balsamiq and conducted user testing to reach the final version.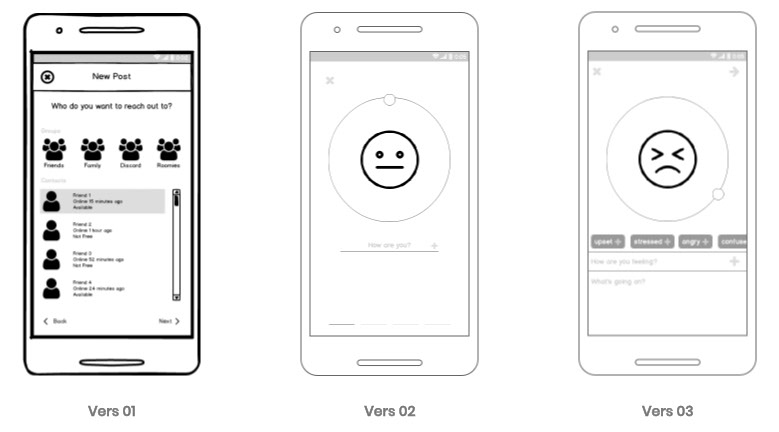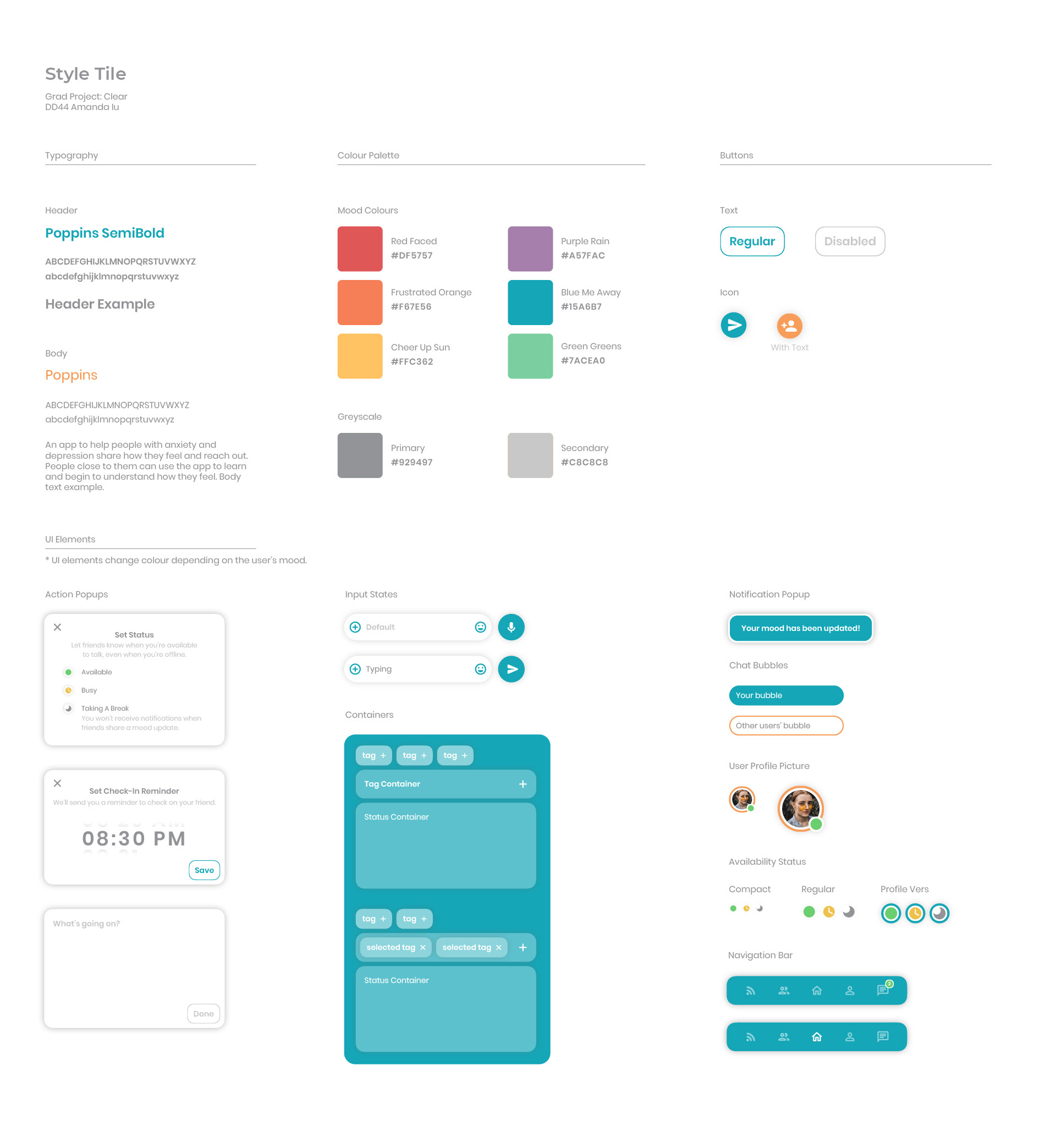 I chose colours that weren't too bold and saturated to help the user feel calm as they could be in an emotional state. I used the deep flat style, where shadows are used to create depth so I could keep colours simple while still having contrast between elements. Corners were rounded to help the interface feel friendly and safe, but I chose a font with straight edges so text wouldn't get lost.
I created a visual language by associating colours with faces showing different emotions so users having difficulty articulating their feelings could see a face and start with that when updating their mood.
Illustrations depicting different weather conditions were also made so users could have the option of sharing that instead of the information they are inputting, as there are cases when that information could feel too personal to share.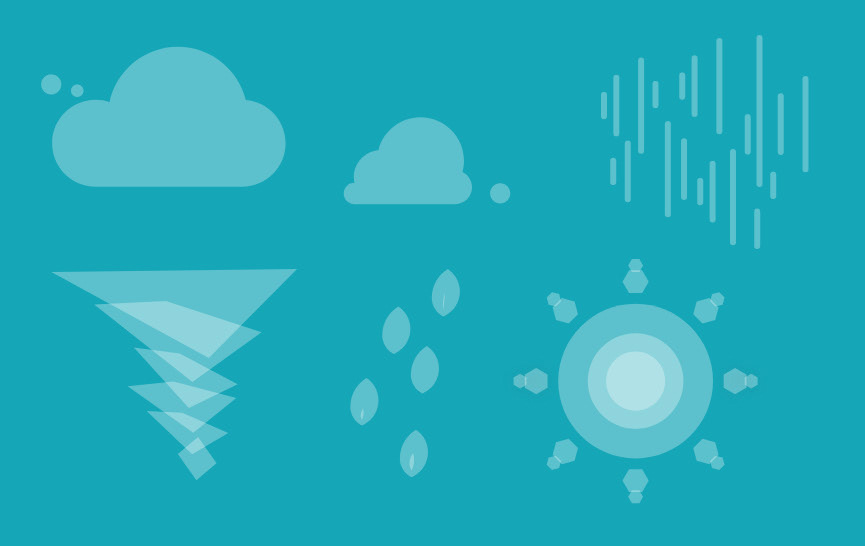 After creating the first mockups in Sketch and receiving feedback I decided that gradients would make the interface less legible and too complicated as I was already using deep flat, so I switched to solid colours.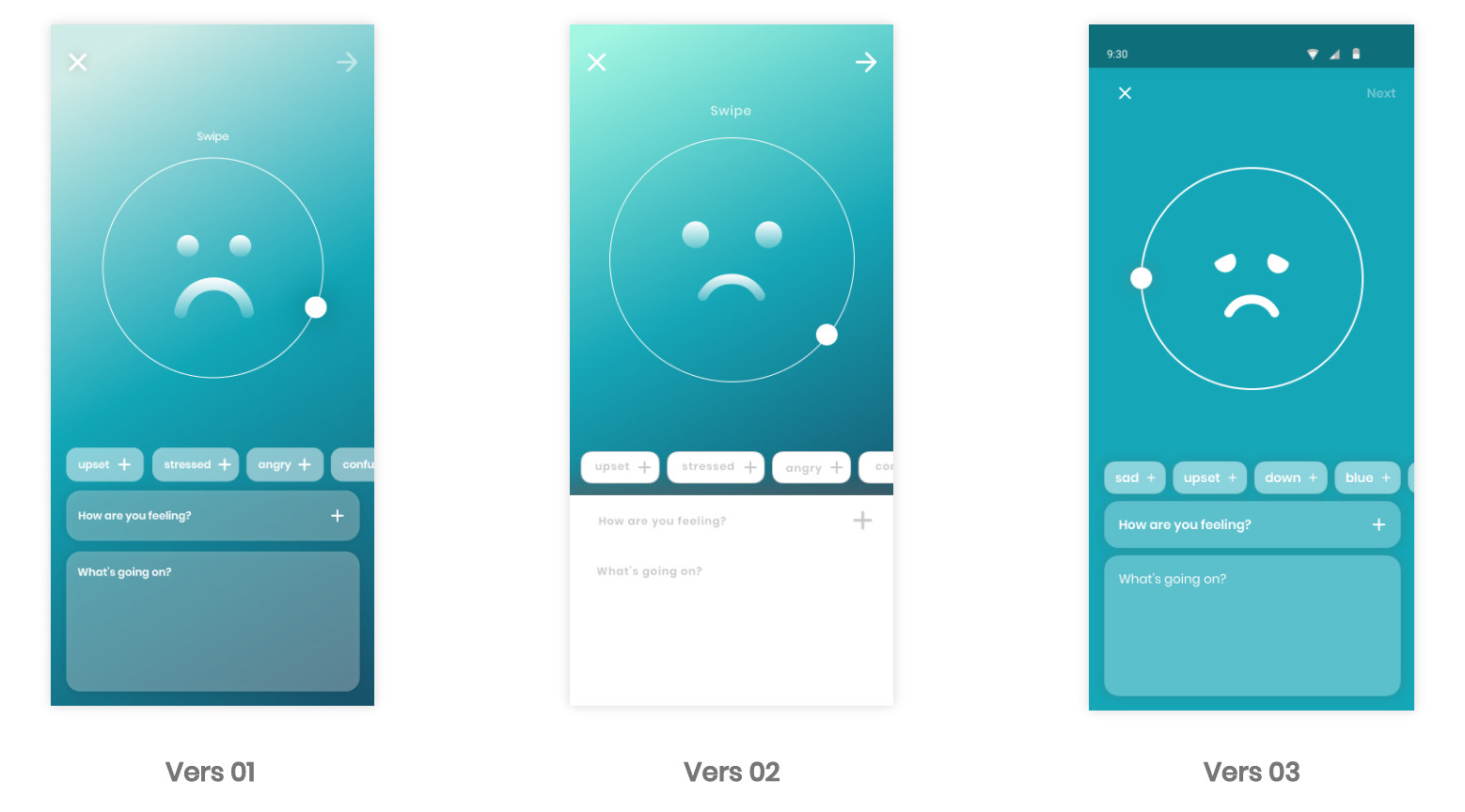 Clear's brand needed to communicate safety and security, as users are sharing very personal information. I chose this colour because while it gives off a feeling of trustworthiness and sincerity, it is also light, giving the logo a fresh energy as the target audience is younger.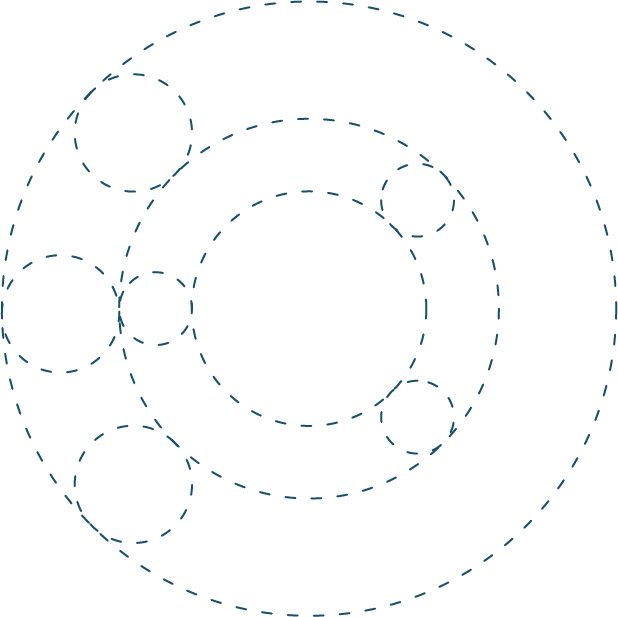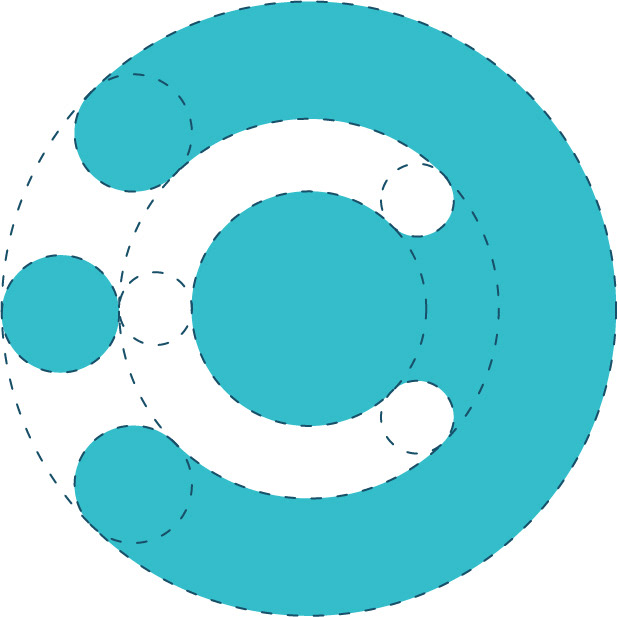 Update and share your mood, your way
​​​​​​​.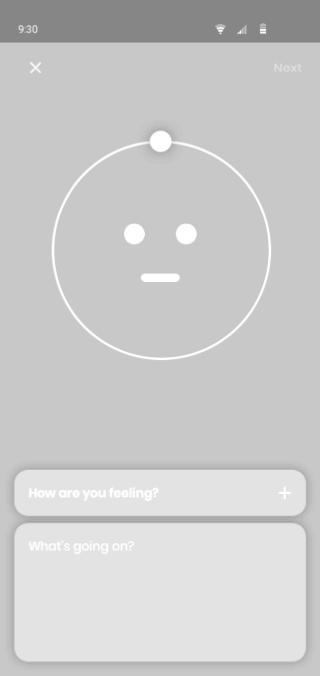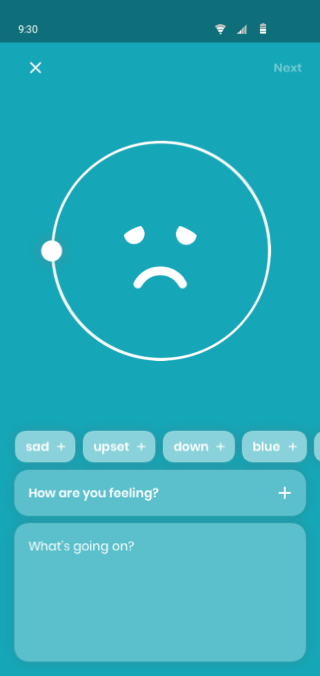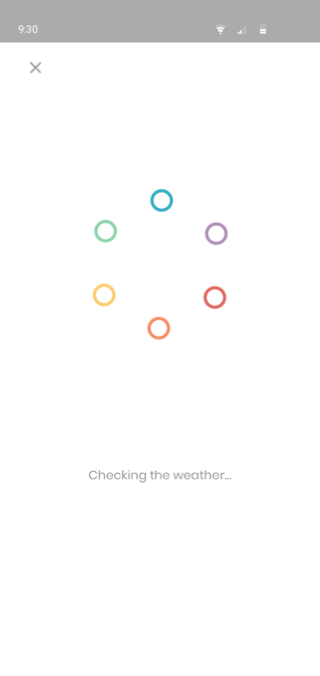 Check in on how your friends are doing.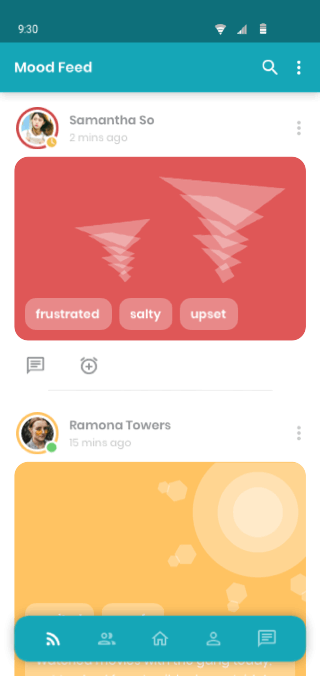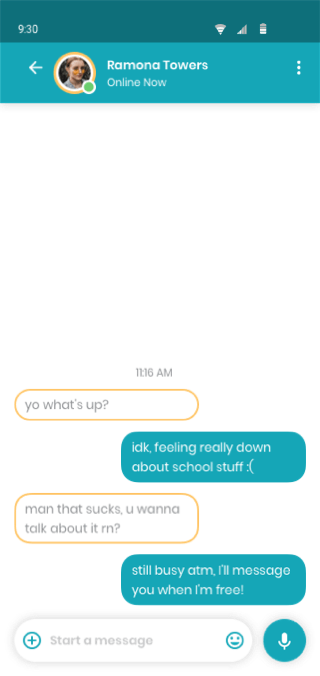 Let friends know when you're free to talk, or when you need to talk.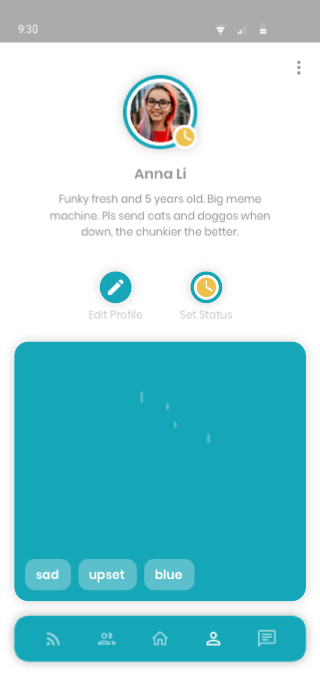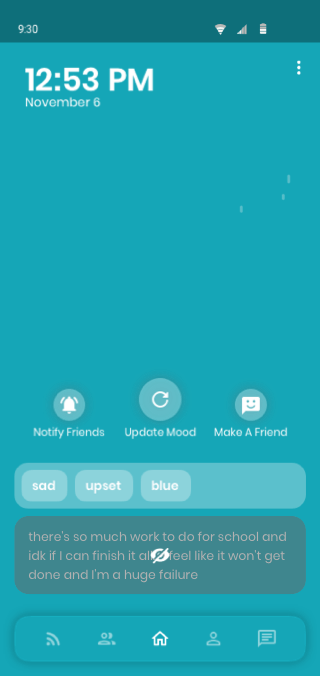 Find new friends to add to your support network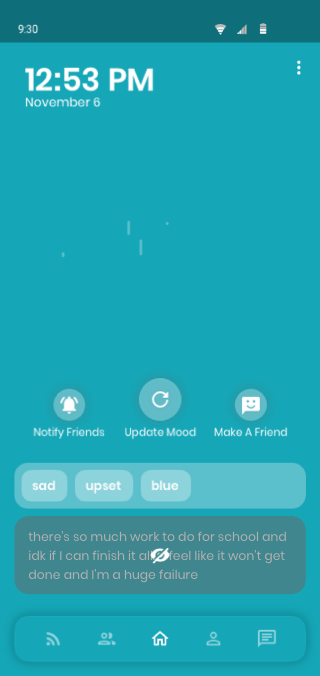 Thank you!
Want to know more about Clear? Feel free to
contact me
!